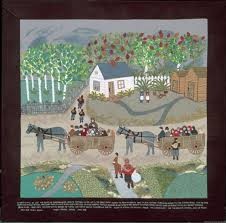 The Jewish Federation Connecting with Community hosts Helene McQuade for a screening of a short film about her mother titled Through the Eye of the Needle - The Art of Esther Nisenthal Krinitz.
The film tells the story of Esther's survival during World War II and unique method of storytelling she adopted - stitching and embroidering.  Viewers will find unexpected beauty in a series of 36 large fabric collages she created, intricately embroidered in vivid color more than 40 years after the war.  They depict one young girl's eyewitness account of tragedy and trauma juxtaposed with the exquisite beauty of the natural surroundings.
Helene McQuade, Esther's daughter, will continue the story following the screening of the film.  Through Esther's own words and images of her artwork, as well as interviews with her daughters and others, the award winning 30 minute documentary explores the capacity of the human heart to heal.
This free program is part of the Federation's Connecting With Community Series and will be followed by a kosher hot lunch. Lunch is a $2 suggested donation for adults over 60 years of age or $7 for all others. Advance reservations are required for lunch and can be made by calling (413) 442-2200 before 9 a.m. on the day of the program.