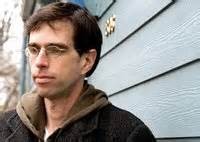 The Jewish Federation of the Berkshires' Connecting with Community series introduces Paul Sturtz, the new artistic director of the WFF Presents: Wind-Up Fest - formerly the Williamstown Film Festival (WFF).  Now in its 17th year, the festival welcomes big changes with a new name, new faces, and new programming concept.
Slated for October 15-18, WFF presents: Wind-Up Fest is a nonfiction festival with documentary film as its backbone.  Other forms of non-fiction will be in conversation with documentaries, including long-form journalism, radio podcasts, photography, and social practice art. Sturtz is also the co-director at the True/False Film Fest (Columbia, MO), and the new managing director, Sandra Thomas, is the former executive director of Images Cinema (Williamstown).
Sturtz will talk about why he chose to take the festival in a new direction, his interest in the northern Berkshires, and the programming he curated that includes the creators and makers of documentary film and other forms of nonfiction.
This free program is part of the Federation's Connecting With Community Series and will be followed by a kosher hot lunch. Lunch is a $2 suggested donation for adults over 60 years of age or $7 for all others. Advance reservations are required for lunch and can be made by calling (413) 442-2200 before 9 a.m. on the day of the program.