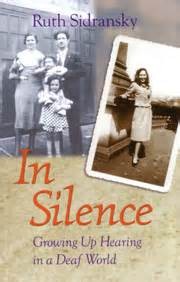 The Jewish Federation of the Berkshires' Connecting with Community series presents author Ruth Sidransky.  A daughter of profoundly deaf parents, Ruth Sidransky, from childhood, was tasked with explaining the hearing world to her mother and father.  Her first words were in sign language - when she started school, she was placed in a class for special needs children until the principal realized that she could hear and speak.  Her eventual mastery of oral language provided her family with a pathway to understanding the world, and eventually she went on to become an author, educator, and television presenter.
Sidransky will discuss her life as a writer.  Her first book, the family memoir In Silence, was nominated for the Pulitzer Prize and the National Book Award.  Other works include Holocaust-themed Reparations: A Novel of War and Rebirth and A Women's Primer: A Book of Positive Essays About the Attributes of Living Life.  She is currently at work on a book about writing.
This free program is part of the Federation's Connecting With Community Series and will be followed by a kosher hot lunch. Lunch is a $2 suggested donation for adults over 60 years of age or $7 for all others. Advance reservations are required for lunch and can be made by calling (413) 442-2200 before 9 a.m. on the day of the program.