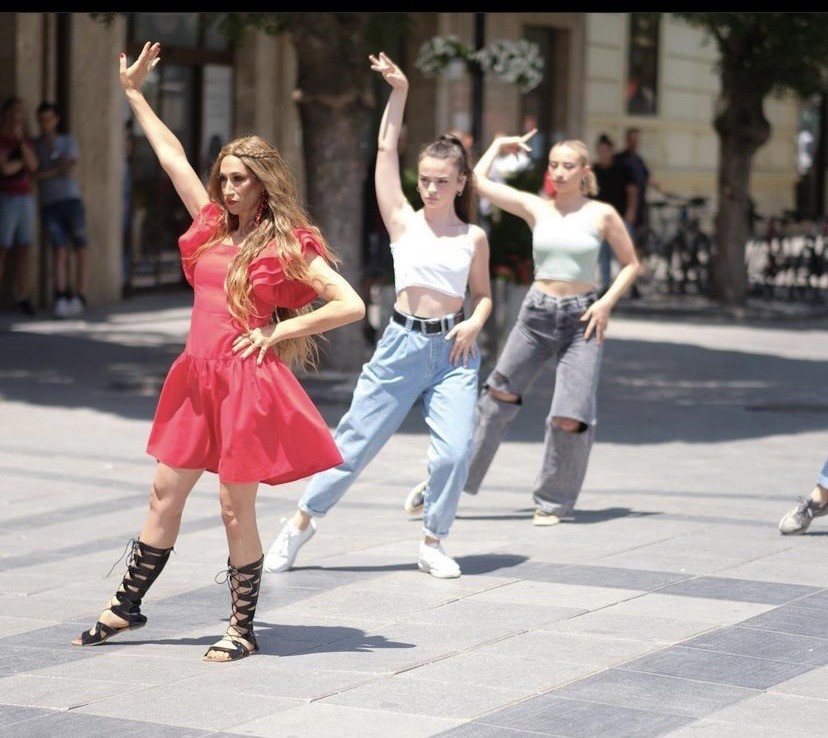 Berkshire-based ambassador of Ladino and Sephardic culture also shares highlights of her recent visit to North Macedonia and Israel to support her album, Monastir
In the June/July issue of the Berkshire Jewish Voice, we reported on the release of Sarah Aroeste's latest recording, Monastir, the Berkshire-based singer's loving tribute to the life and culture of her Sephardic family's ancestral home in North Macedonia. The story chronicled Aroeste's scramble to complete her recording project overseas in the spring of 2020, just as pandemic lockdowns shuttered the world. It further detailed the resilience and creativity she and her producer, Shai Bachar, showed in finishing the album remotely with the help of some of Israel's A-list recording artists.
With COVID-19 restrictions eased in the summer of 2021, Aroeste returned to the Balkans and then to Israel to support the album – and she shares her experiences in the story that follows.
But first, the BJV would like to congratulate Sarah on being honored by The Sephardic Jewish Brotherhood of America (La Ermandad Sefaradi) in December for her contributions to Sephardic culture. She will be recognized at a gala at the Museum of Jewish Heritage: A Living Memorial to the Holocaust in New York City, along with fellow honorees Albert Maimon, a community leader and Sephardic educator, and Dr. Albert Bourla, chairman and CEO of biopharmaceutical giant Pfizer, Inc., who was born in Thessaloniki, Greece, to a family with deep roots in the city's Sephardic Jewish community.
"Albert Bourla is a proud Sephardic Jew, and he often uses the story of his family as the inspiration for how he rose at Pfizer," she writes. "I may be saving a slice of Sephardic culture through my Ladino work, but he is saving millions of people through his work. I can't believe I'm being honored in the same program!"
Mazel tov, Sarah, from your friends at the Federation! And now, without further ado…
Back on the (Sephardic Music) Road!
By Sarah Aroeste / Special to the BJV
On March 13, 2020, I was busy in North Macedonia recording my newest musical project, Monastir, when the United States (and most of the world) began shutting its borders because of COVID-19. My husband, Jeffrey, alone with our two young kids in the Berkshires, was worried I would be stuck in Europe and was frantically trying to get me home. While I understood his concern, I also felt passionate about my project – a Sephardic musical homage to a Balkan community destroyed in World War II - and resisted cutting short my trip. I also told him that of anywhere in the world I felt safest being stuck, it was there in North Macedonia, my ancestor's beloved homeland. But reason won out, and of course, I returned to the Berkshires, unaware of how the next year would unfold.
Remarkably, over the course of the following months, and with the help of advanced music technology, I was able to complete my project from afar. In fact, that so many music friends were in the same plight of having their tour plans canceled, allowed me to include many more musicians than I could have dreamed. The result was that I enlisted over 30 musicians, primarily from Macedonia and Israel, to record on Monastir, in what developed into a much deeper and resonant endeavor because of it. And finally, in July 2021 – 14 months after I began recording – I was able to return to Macedonia (as well as Israel) to say thank you to all the participants.
Before my three-week tour, I had only left the Berkshires once since the previous March, for a long weekend in Gloucester. So, this was a big trip – including realizing a week before my departure that my passport had less than six months remaining. (Thanks to Representative Richard Neal for saving the day on that problem!) But when I arrived in Macedonia, it was as if no time had passed. I felt right at home, and I immediately hit the ground running: acknowledging the volunteers, meeting with diplomats, and arranging festival appearances for the project's live performance (when it is safe to have them). I also got to visit an archive where I was only the third Jew at the time to examine a Torah scroll that had recently been uncovered after being buried for centuries. I couldn't believe what I was seeing and touching! As amazing as that was (truly, I had chills), the highlight of my time was filming parts of my project throughout the old Jewish neighborhoods, and even in my family's houses.
My grandfather was born in Monastir, in what is now known as Bitola. His family emigrated during the Balkan Wars in 1912 and settled in Rochester, NY. But much of my family stayed behind and met their fate, along with 98% of the Jewish population, in Treblinka in 1943. My grandfather's first cousin, still alive today at 103 years old, is one of the 2 percent who survived. Much of the Monastir project is dedicated to her, and much of the filming was done in her family's apartment that her father built in 1923. It is hard to put into words inhabiting the space of one's ancestors, let alone singing music to them in their honor. It was transformative, both musically and personally.  As I performed my song, Mi Monastir, about how the stars in the walls speak to me, I was literally standing in my cousin's balcony where Stars of David can still be seen in the ironwork, even though no Jews have lived there since WWII.
But I didn't want my trip to focus on what was lost; I also made sure to celebrate the joy and vibrancy that is our story. So I performed a song, Od Bitola Pojdov, which talks about how there is no other city as beautiful as Monastir. I enlisted young dancers from a local Bitola dance company to choreograph the song on the main street of the city, right in front of my cousin's house. Everyone who walked by saw us dancing and honoring my family's history through song. It is a memory I will not soon forget.
And then it was off to Israel to do more of the same. This time, I would shoot music videos in a wadi in Ein Gedi, and most excitingly, another with one of my biggest musical crushes of all time: the Israeli superstar, Yehoram Gaon. Think of him as the Frank Sinatra of Israeli music. It had always been a dream of mine to perform with Gaon, and because of COVID-19 I got my chance. He was one of the musicians from the past year whose schedule opened wide, and he enthusiastically lent hid voice and talents to the Monastir Project, as he, too, comes from proud Sephardic Balkan heritage. It would have been enough just to record our song, Jo la Keria, together. Dayeinu! But the icon agreed to shoot a music video with me as well. That surely was the apex of my tour (swoon!).
Even though the trip was not for leisure (all together, I shot 6 videos and began recording my next album – a Ladino Chanukah album coming in November!), it felt so wonderful just to breathe in the air of Israel and Macedonia. While I fear, like many, that we will continue to have travel and other restrictions for some time, for a brief window this summer I felt productive and energized being in such beloved surroundings. It is hard to keep an artist from creating, and I am grateful to everyone in my international production teams for helping me to have had this opportunity – and especially my husband, the true Rockstar, for always keeping down the Berkshires home-front.
Monastir can be purchased at saraharoeste.com.