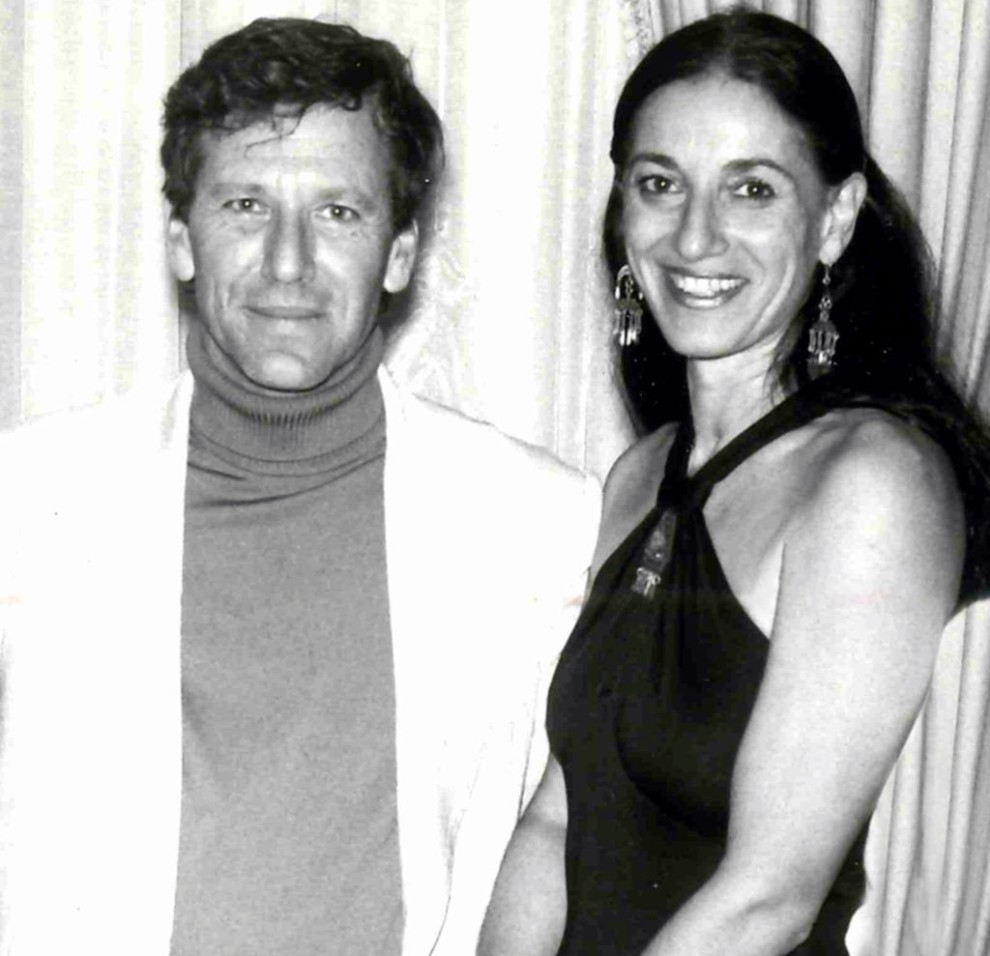 Characters from Amos Oz's classic portrait of Israel captured by actress/playwright TAMIR
On Sunday, April 25, at 7:30 p.m., the Israeli/American actress and playwright TAMIR presents her adaptation of Amos Oz's In the Land of Israel, bringing to life six women portrayed by the author in his indelible portrait of Israel in the 1980s.
In the 1980s and 1990s, TAMIR traveled and worked with Oz at book festivals and other venues, presenting a version of this performance before the author would speak about his book. In the Land of Israel recounts Oz's travels around Israel and conversations he had with its inhabitants – Israelis and Palestinians, Sephardim and Ashkenazim, secular and religious Jews, the doves and the hawks, and nationalists and humanists. TAMIR distilled these conversations into a theater piece that captures six women's personalities and conveys their views of the past, present, and future of Israel. Although published 35 years ago, In the Land of Israel is still relevant today.
This free online presentation is co-sponsored by Hevreh of Southern Berkshire, Knesset Israel, Temple Anshe Amunim, and the Jewish Federation of the Berkshires. Additional support was provided by the Harold Grinspoon Foundation.
Visit Federation's Calendar of Events at jewishfederation.org for information about this event, or the Knesset Israel website at knessetisrael.org. Please Note: At press time, details about registration had not yet been finalized.
Book Discussion with Rabbi Liz Hirsch
In advance of TAMIR's performance, Rabbi Liz Hirsch of Temple Anshe Amunim will lead two online book discussions that will delve into In the Land of Israel. These online programs begin at noon on March 18 and March 25, both Thursdays.
Register for this book discussion here.
About TAMIR
When TAMIR first read In the Land of Israel in the 1980s, the Jerusalem native (who studied modern dance with Martha Graham both in Israel and in the US) was taking acting classes at the American Place Theater in New York City. She recalls that Wynn Handman, its artistic director, urged his students to put aside scene study and "see if you can find work that actually expresses who you are or how you would like to leave a mark in theater." TAMIR says she was intrigued by a fellow student who used correspondence left by her great-grandmother that described her life as a pioneer to create a one-person performance that was both theatrical and educational.
While wondering how to move forward with a show like that of her own, TAMIR was urged by a friend to read In the Land of Israel. After reading just a few pages, TAMIR says she knew she had to "adapt this to a one-woman play because it spoke to me like nothing I'd ever read before. As an Israeli living in the United States, yet somehow never really honoring that part of myself, I felt that the book was a way of weaving the separate cells of my history, of myself, together."
Even in its early stages, TAMIR could tell the work would have an impact – she recalls that her fellow acting students started taking notes as she performed. To direct, she enlisted fellow Israeli Avishay Greenfield Caspi and, with input from Wynn Handman, the two developed the piece. But there was one hurdle TAMIR had to cross.
"I wrote a letter to Amos Oz," she recounts, "and said this is what I've done, and I would like to take it out to the public. And if you say 'no,' that makes it an exercise – so that's wonderful. And if you say 'yes,' then I will proceed.
"And he [responded]: 'Okay, I'm coming to New York, and I would like you to show it to me.'" She proposed that he attend a live performance but told him, "You know for you to be sitting alone in the audience, I would have a heart attack. Can I bury you in an audience?" He said yes, so long as the audience didn't know he was there.
"That was going to be a little hard because all of them were Israelis. So we warned everybody – 'don't know him!'" TAMIR says that at the performance, the audience (unsuccessfully) took pains to pretend they didn't recognize Oz and Oz, in turn, pretended they weren't looking at him, "but since nobody was asking him questions, he was happy." Oz was happy with the performance, as well – from onstage, she says she could hear him laughing. At the end of the evening, TAMIR had received Oz's blessing to proceed with her adaptation.
TAMIR started to work with the same agent as Oz, who began booking them together at book festivals and other venues – TAMIR would perform, and then Oz would follow with a talk about his work. They developed a friendship and a rapport that TAMIR describes as "very, very, very remarkable. He was working on various books, and he would read them to me and ask me for my opinion. I said, 'What? Me? You're the writer.' And then he said, 'No, you're a very good writer, and I absolutely trust you completely. And that as a matter of fact, I want you to take all of my books and write another play based on women in my books.'" TAMIR went on to develop a second show adapted from Oz's work titled I Belong Elsewhere, in which she portrayed eleven of the author's female characters.
The characters in In the Land of Israel include a woman from the ultra-Orthodox Meah Shearim neighborhood of Jerusalem, an older pioneer on a moshav, a French Catholic nun, a Palestinian pharmacist, and a right-wing extremist. Her upbringing in Israel, she says, enabled her "to immerse in the characters, and they were able to immerse in me. It's kind of an intuitive recognition of who they are and what they want." And, she says, she also has a deep understanding of Oz and his work – she grew up in the same Jerusalem milieu that he writes about and even attended the same schools.
TAMIR will be pre-recording her performance of In the Land of Israel for the April 25 program and says she appreciates the book discussions Rabbi Liz Hirsch will be leading in the weeks before – "It's nice to have an informed audience."
Though events and issues captured in In the Land of Israel occurred nearly 40 years ago, TAMIR says that both the book and her play offer "a wonderful opportunity to see all the different perspectives at the same time, to be able to go from one chapter to another or one character to another and see the disparity and the connectedness behind them, and the disharmony in their visions of Israel.
"But now it's become a historical piece, though it's contemporary in the sense that people are still killing each other. People are still vying for what piece of land belongs to me, what piece of land is my ancestry, my heritage, my agricultural connection to it, my archaeological connection to it, my religious/spiritual connection to it – there is still that constant fight that goes on. I feel that though it's not a contemporary story in terms of what the characters are specifically talking about, the meta-story is totally of the now – sadly – because war is still with us. It remains a piece of literature that allows us to examine ourselves. And in that universal and esoteric aspect of it, it's a book that will always be timely.
"And besides which, Amos Oz is a fantastic writer, and I love him."
In the Land of Israel

By Amos Oz

A one-woman show

Adapted and performed by TAMIR

Directed by Avisha Greenfield-Caspi

Music by Adi Rennert